Unemployed Gen-Y Attorney? Stalk Your New Employer With JobProx!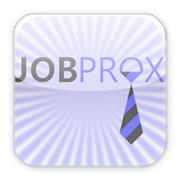 What my email delivers to me.
It's an app app appy new world!
I wanted to reach out, and let you know about a new smartphone proximity app that allows job candidates and hiring managers to meet by alerting users when they are near one another. Users are then able to request a meetup and the responding party is able to select one of three options; meet now, set up a future meeting or kindly say "no thanks."

It's a tough world out there, and employers receive thousands of resumes each day. So, how are candidates supposed to distinguish themselves? Well, when users meet with someone via JobProx, they get to present their real self to a possible future employer. The possible future employer gets to see their candidate in person, and not as the many pieces of paper they receive every day.

At the bar?
Can I buy you another? I graduated from Harvard Law in 2010 and have been working at McDonald's since I moved out of my parents' basement last year. This is my girlfriend. She's hot. Want to come back to my place and smoke a joint?
At the grocery store?
I see you're trying to buy a pineapple. Your wife asked you to get a ripe one, I'll bet. Listen, you just turn it over and smell its butt. Yes, that's right. If you can smell its sweetness, that means it's ripe. By the way, I've got my resume on me (reaching into purse) (in Los Angeles substitute the word "screenplay"). Stanford 2014. How's Gibson's summer associate program? I couldn't get an on-campus interview because I'm in the bottom 20% of the class but this kind of dogged determination is what makes me special and the Law Review editor's a putz if you ask me and I'm sure you wanted to know that because I understand he got an offer.
On the Beach? (women only)
I'll take the straps down on my bikini if you'll put sunscreen on my back. Then we can talk about my expertise in data privacy breaches.